.
The cities of Uganda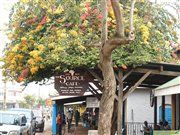 The majority of Uganda's population lives in the country side, namely 80%. Nevertheless, there are plenty of cities with more the 10,000 inhabitants. Some are busy, others are not. But all of them offer interesting insights into the African "Way of Life".
The biggest and probably best known cities are Kampala, Jinja and Entebbe. When you visit Uganda than you should plan to visit them.
When you travel overland to one of the big national parks you will pass some smaller cities. A good advice: Take your time and have a look. You can experience "true live" in Africa.
Related link (in alphabetical
order)
---
.