.
Entebbe - Entrance door to Uganda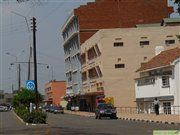 Entebbe is a small town with 60.000 inhabitants. In contrast to Kampala, life here is more relaxed and therefor always worth a day trip. This is also well known to the citizens of Kampala, who like to choose Entebbe and its surroundings as a weekend trip.
The name Entebbe is derived from Luganda and means "Seat" or "Chair". Legend has it that in the past there was a place here, where legal disputes were sorted among locals and that the judge took his seat on a chair made out of stone.
Entebbe is located on a peninsula on Lake Victoria and therefor surrounded by water on three sides. One reason for the pleasent local climate. Until the year of Uganda´s independence in 1962 Entebbe was the capital. Even today a few governmental departments are located here.
The town itself, at an altitude of 1.158m, by and large consists only of one main road. But it is worth to point out a few colonial houses which are still very pretty.
Related links
A few attractions
---
Comment to Entebbe - Entrance door to Uganda?
.