.
Masindi in western Uganda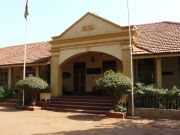 Masindi is located in central western Uganda and has about 30.000 inhabitants. It is an important agricultural city for Uganga, because Masindi is the centre of the tabacco cultivation.
In previous times Masindi was of more significance, because it is located on formerly important trade routes from Kongo to Mombasa (Kenya) and from Kampala to Sudan. Because of the unrest in Kongo and Sudan these routes have lost their relevance today.
For travellers there is not much impressive to see. But in close proximity is the Murchison-Falls national park, so you can start you daily safaris from Masindi. The same goes for the Budongo Forest Reserve - one of the best preserved rainforest in eastern Africa.
50 km from here in southeastern direction is the Ziwa Rhino Sanctuary. The so far quite successful reintroduction of the white rhino in Uganda takes place here. Since the brand new road is in excellent condition you can reach the rhinos within 50 Minutes from Masindi.
Weiterführende Links
---
Comment to Masindi in western Uganda?
.