.
Jinja in Uganda: Second economic centre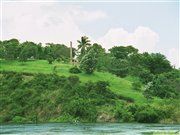 Besides Kampala Jinja is the undisputed number two of all Uganda's cities. At 1,143 m (3,750 ft) altitude, the climate in Jinja due to its location on the shores of Lake Victoria similarly warm and humid as in Entebbe. Today there are around 90.000 inhabitants in Jinja.
It became famous worldwide in the late 19th Century and it was presumed to be the source of the Nile River from Lake Victoria since its discovery by the British missionary John Speke in 1862. This is, however, as we know today, in the Virunga mountains of the East African Rift Valley in Burundi and Rwanda.
The name was derived from the Luganda word "ejjinja" which means "stone". The first settlement was located on a ditto. Favorable climate, fertile soils and fish rich waters were and are still the reasons for Jinjas great economic importance.
The city's official founding dates to the year 1900, when the construction of a telegraph cable on the Nile the town was at the same time founded. The introduction of steamers and ferries on Lake Victoria up to the Kenyan port Kisumu, Jinja soon formed one of the global trade routes. Since Kisumi was connected with Mombasa on the Indian Ocean by the railway. The location was in addition to the advantage of favorable nature another basis for Jinjas rise to a trade and economic center. Of most importance until today are agricultural goods (sugar, cotton, wood) and the iron industry which are located here.
But Jinja is also an attractive sightseeing destination for tourists. On a trip to Jinja it is worth visiting the source of the River Nile. As the River Nile begins its long journey to the north right here it is a beautiful scenery ambience.
Related Links
Some sights in
Jinja
---
Comment to Jinja in Uganda: Second economic centre?
.