.
Hoima in Uganda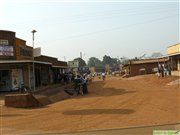 Hoima is located in the western region of Uganda, directly at Lake Albert and at the edge of the central African Rift Valley.
Hoima has about 40.000 inhabitants, is rather small and there are not much tourist attractions in the vicinity. That is why the town rather serves as a transit station on the way to Masindi or Fort Portal.
At the times of the Kingdom of Bunyoro, Hoima was an important place due to the Royal Residence which was located here. Until today one can visit in the near vicinity (street to Masindi) royal graves. Furthermore a trip to Lake Albert is worthwhile and you will pass a few hot springs on the way.
Allthough Hoima is by no means the hub of tourist attractions it has a lot of fine hotels. Especially the quite new Hotel Kon Tiki has to be pointed out. Here you can stay in princely fashion for little money.
Related links
---
.