.
Lake-Mburo National Park Uganda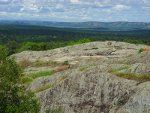 Highlights of this just about 260 sq km large National Park are the Lake Mburo and the plenitude of antelopes. From these animals the name of the capital Kampala is derived (Kasozi K'Empala = Hill of the antelopes: Meant was the Nakasero Hill in Kampala, which was populated by domasticated antelopes when the city was founded). Further 14 small lakes and widespread swamps make up a very versatile landscape. Since there are only 800 mm of rainfall a year, visitors will find big areas of open grassland covered by Umbrella Thorn Acacias.
Allthough you can't find huge animals like elephants or lions anymore, leopards waterbucks, hyaenas, zebras and other species invite you for a visit. Also of interest is a boat trip on the lake and a guided tour by rangers through the wilderness.
Horse
Back

Safaris offered by the Mihingo Lodge

More or less unique in Uganda are the Horse Back safaris that are offered by the Mihingo-Lodge in and around the Lake-Mburo National Park. Horse Back safaris are an exciting possibility to enjoy wildlife around the Mihingo-Lodge. Without noise and fumes you feel like a part of the nature and you have the chance to see even very shy animals. It is an exhilarating experience that you should not miss.

Located at the main road from Masaka to Mbarara, it is easy to reach (230 km from Kampala). Concerning accomodation you will find a variety from luxuary tented camps (Mantana safaris), as well as s a few huts and camping sites at the park's headquarter in Rwonyo. In this region we are still feeding our hotel database with new members.
Related links
---
Comment to Lake-Mburo National Park Uganda?
.