.
Mount-Elgon national park in Uganda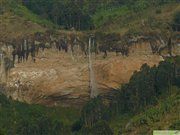 The showpiece of the 1,146 sq km comprising Mount-Elgon National Park is the mountain it is named after; the 4,321 m (14.176 ft) high Mount Elgon. As an active vulcano - arose about 25 mio years ago - it was probably the highest mountain in Africa. Even higher then the Kilimandscharo in Tanzania. But over millions of years its peak caved in and forms now the mighty Caldera with 5 peaks. The crater lakes, which can be found there today, have been formed by glaciers in the Pleistocene during the last ice age.
The native vegetation, especially the mountain rainforest, have been forced back considerably by agriculture. That is why the National Park was founded in 1993, to protect the remaining forest. Furthermore, the mountain region plays an important role for the groundwater levels in eastern Uganda.
Today, the caves, canyons, hot springs, waterfalls, the easy to climb 5 peaks and the Caldera itself are places of interest with rarity character.
From Kampala, only 250 km away, the park is easy to reach on mostly flawless roads With several hotels the town Mbale is located in the near of the park. In the near of Sipi-Falls there are campsites a lodges. But you can also reach Mount-Elgon national park from Soroti.
Related links
---
Comment to Mount-Elgon national park in Uganda?
.