.
Kidepo-Valley National Park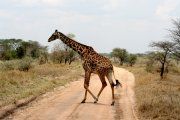 The 3rd largest park in Uganda is the Kidepo Park. It's is located remotely in the very northeastern part of Uganda, at the border to Sudan and Kenya. The climate here is semi-arid, and therefore very different from the protected reserves in the west and southwest. In the 1,344 sq km large, semi-dessert like landscape, the most common animals are elephants, zebras, giraffes, buffaloes and antelopes. But also ostriches, leopards and even cheetahs can be observed. Furthermore, 500 species of birds are joining in. For the observation of the wildlife there are two round courses at your disposal, connecting the reserve to the camp.
The fastest way to reach the park from Kampala is by chartered plane within 2 hours. The journey by car takes two days. Due to the uncertain situation in Sudan the journey by car is actually not recommended.
The numbers of accommodations is not high, but the Apoka-Lodge offers every comfort. In addition there are camping sites nearby. The best time for travel is the dry season from December to April.
Related links
---
Comment to Kidepo-Valley National Park?
.