.
Queen-Elisabeth National Park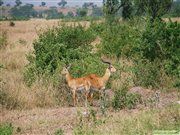 Only half as big as the Murchinson-Falls National Park, but with more variety in landscape, is the Queen-Elisabeth National Park. On almost 2,000 sq km you will find grass savannhas, open bushland, lake-, river-, and volcanic landscapes as well as wetlands, all in close vicinity. Because of that, the wildlife is as well diverse.
The Queen-Elisabeth National Park is located in the west and is divided into two parts. Between Lake Edward and Lake George is a northern and a southern part. The two regions are distinguished by very different ecosystems. The Kazinga Canal represents the dividing line, which you should explore by boat. That way, close up, but in save distance, you can marvel at more than 550 species of birds, hippos, buffaloes and crocodiles.
As far back as in the 50's, this park was regarded as the most impressive in the whole of Africa. In the times of crisis in the 70's and 80's the animal population suffered immensely, but recovered very well over the last 25 years. In contrast to other parks, there are a few villages within the borders of the park.
From Kampala you can reach the Queen-Elisabeth National Park within 6 hours by car on a tarred road, passing Mbarara and Kasese. The central point of approach is Mweya in the north and the Ishaha Camp in the south. Chartered flights are also available, either direct to the Mweya Lodge or to Kasese, which is close by in the north. Again, accommodations in different price classes are available.
Related Links
---
Comment to Queen-Elisabeth National Park?
.