.
Ugandan national parks: Pure nature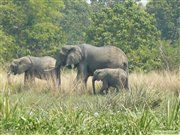 Once in Africa, a safari in a national park is a must for everybody. The untouched nature, the tranquility and the unusual (wild) fauna makes such a safari an unforgetable experience.
Uganda is mainly known because of its unique population of mountain gorillas. But ornithologists and friends of butterlies will also like Uganda because of its species diversity.
10 national parks will serve for
all

your wishes

Uganda offers you with 10 national parks a wide choice for your safari. Nearly all of them are located in the western half of Uganda, where the climate is a bit more humid. But this does'n mean that all the parks are the same. Each one has its special features. What they all provide are insights into an original peace of nature which you will never forget.

 

 
Murchinson-Falls National park
The Murchinson-Falls National Park is the largest of all National Parks in Uganda. On over 3.900 sqk awaits you...
Queen-Elisabeth National park
Only half as big as the Murchinson-Falls National Park, but with more variety in landscape, is the Queen-Elisabeth National Park.
Kidepo National park
The 3rd biggest park in Uganda is the Kidepo Park. It is located remotely in the very northeastern part of Uganda, at the border ...
Mount-Elgon National park
The showpiece of the 1.146 sqk comprising Mount-Elgon National Park is the mountain he is named after: The 4.321 m high...
Ruwenzori National park
The 996 sqk big Ruwenzori National Park protects the central region of the mountains of the same name, at the border to ...
Kibale-National park
The Kibale National Park evolved from a former forest reserve and received National Park status in 1993. He is spread over...
Bwindi-Impenetrable National park
The 331 sqk big Bwindi-Impenetrable National Park exists since 1991 in the southwest of Uganda. In altitudes of about 1.160 - 2.600 m ...
Lake-Mburo National park
Highlights of this just about 260 sqk big National Park are the Lake Mburo and the plenitude of antelopes. From these animals the name ....
Semliki National park
Regarding the landscape, this National Park is different compared to the others, because of its low altitude of about 700 m and ...
Mgahinga National park
The Mghahinga National Park is with 34 sqk the smallest and youngest national park in Uganda. He belongs to the protected areas of ...
---
.