.
Mbale in Uganda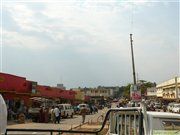 Mbale, with about 70.000 inhabitants, is located directly at Mount Elgon, which rises to an impressive height of 4.321 m.
A lot of tourists prefer the comfortable accommodations in Mbale to start from here to see the numerous tourist attractions in the surroundings. Above all the Mount-Elgon national park, which invites you to hiking tours through beautiful mountain regions. Worth seeing are also the Sipi Falls at the northern side of the mountain.
Further attractions in the vicinity are the Lake Kyota or the rock paintings in Kumi or Kakoro. The latter are estimated to be 2.000 years old.
Mbale is the centre of the ugandan coffee cultivation, has a lot of green spots and is nice to look at. Trekkers can use the rich and cheap offers at the local market in the centre to top up their provisions. A rarity is the islamic University in eastern Africa.
Related inks
---
Comment to Mbale in Uganda?
.