.
Mountain gorillas and more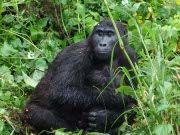 For most tourists the exploration of the indescribably beautiful nature comes first. - and it is endless. Uganda has more then 10 national parks, comprising an area of more than 11,000 square kilometers (ca 7,000 square miles). In addition there are protected wildlife reserves, so that no wish will be denied.
Kampala is a typical African city - and offers ample opportunities for relaxation and exploration as well. Culture, craftsmanship and sports are in no short supply.
We have collected the most important about the attractions of Uganda and summarized in a brief overview. You will find here short information about
---
.