.
The culture of Uganda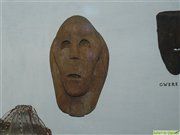 For the lovers of art, Uganda has a lot to offer which is so different compared to european art. And that is exactly what makes a safari in Africa so exciting.
On your journay you will have ample opportunities to approach the art and culture of Africa. And, of course, countless traders will tempt you with their multitudes of offers. But to take a close look is always advised, lest you declare a piece which was made in Kenia wrongly as an "Original made in Uganda".
When you have booked a safari with a tour operators, the travel guides are Ugandans in the most cases. So they normaly speak one of the native (traditional) languages and know their way around. Ask them for help when you purchase a souvenir, then you are always on the safe side.
---
.