.
Languages in Uganda: A Diversity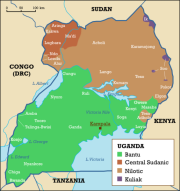 All in all there are 40 endemic languages, split into two big groups:
Bantu languages and
Nilo-Saharan languages
The most common Bantu language is Luganda which is spoken and understood by most of the people, especially in the southern and central regions. Nevertheless, the official language is English and furthermore Suaheli (also called Kisuaheli or Swahili) is spoken which is common in the whole of East Africa. A language with semi-official status is the Luo language , which is taught at the Makerere University.
(The map showing language distribution of Uganda was produced by Mark Dingemanse from agency vormdicht ).
Related Links
---
Comment to Languages in Uganda: A Diversity?
.