.
History and politics of Uganda: Eventfull and on the rise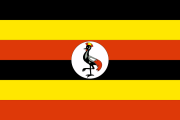 Uganda has a long and eventful history. Already populated in the ancient times, it didn't play an important role in the world due to its geographically isolated location. The colonialists and missionaries were followed by the independence. This however did not lead to democracy, but to the turmoil dictatorships of Amin and Obote. Not until the liberation through the still ruling President Museveni brought stability and closed up the gap to the world community.
Even though Uganda is still one of the poorest countries in the World today, it is in comparison to most of the other African countries on a steep and stable way to the top!
---
.