.
The climate of Uganda: Temperate tropical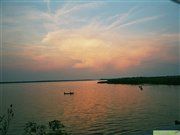 Due to the average altitude of 1.000 m the climate is moderate tropical and more bearable than in other African countries.
In the course of the year the weather is divided into dry and rainy seasons. The best time for travel are the dry months of June to September and December to February. During the rainy season (mid March to June and October to December) there is an average rainfall in most Ugandan regions reaching 1,000 - 2,000 mm, the basis for the rich vegetation. In the Rwenzori mountains rains reach even 3.000 mm a year.
Only in the north e.g. in the Karamoja region, north to Lake Albert or close to Sudan, you can will find semi-dessert climate. In a year only 100 mm rain are measured.
This dry landscape is at the same time the hottest, where temperatures can reach more than 30 degrees. In the rest of the country temperatures are more bearable at about 20 - 27 degrees. Temperatures drop below 12 - 18 degrees only in the high altitudes of the mountains.
Also the humidity is less oppressive, due to the average altitude and interior location of Uganda. Only in the vicinity to big lakes, ones wellbeing on a safari through Uganda can be somewhat strained.
---
Comment to The climate of Uganda: Temperate tropical?
.