.
The economy of Uganda: On the way to the top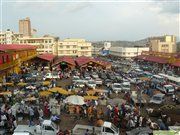 The economy of Uganda is still very small compared to other countries internationally. It is however important to note that when one looks back to the last quarter century, there has been a remarkable improvement in the economic environment of Uganda.
The largest sector in Uganda like most of the African countries is agriculture. However, the mining and industrial sector also plays a major role. Whether the recently discovered oil reserves will contribute decisively to its economy remains an open question.
A very huge potential for the economic development lies in the tourism sector. Especially the nativeness of Uganda as an African country is one of the main attractions.
Where else can you explore the beauties of an African country under safe circumstances like in Uganda?
---
.