.
Industry and export of Uganda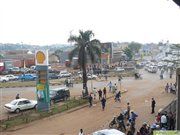 Foreign trade still plays a minor role in Uganda, but is growing steadily. Destined for export are only mineral resources which include metals (gold, copper, cobalt) and building material (limestone).
Also the industrial production is still in its infancy, with the breweries, cement, sugar and tobacco industries representing the largest production facilities. The production is from time to time limited by poor electricity supply, as its demand is constantly rising and can barely be covered by the power plant.
Almost the entire energy (> 99%) is generated - environmentally friendly - from the hydropower plant on Lake Victoria. Especially when the water levels are low, the supply goes down, which has lead to the planning of a new hydropower plant at the Bujagali Falls on the River Nile. The laying of the foundation stone for this construction project finally took place on August 22, 2007. This power plant will certainly have a positive impact on the supply of electricity in Uganda after completion. Others critizise this project, especially non governmental organisations.
Related Links
---
Comment to Industry and export of Uganda?
.