.
Religions in Uganda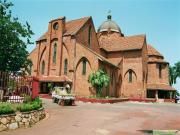 The traditional religions have almost disappeared due to missionary activity. Today, almost 80% of the population are Christians, which is divided equally by the Catholics and Protestants. In 1879 the first French Catholic missionaries arrived in Uganda, followed shortly afterwards by British Protestants.
The Protestants were favoured due to the British colonial power, therefore Catholicism had been associated to anti-colonial ideas.
Furthermore, Islam is of importance, which came with trade from the arabian regions to Uganda, long before the first missionaries found their way to Uganda. Today, about 5-10% of the Ugandans belong to Islam.
Traditional beliefs, which are not related to any of the dominating world religions, are found in some rural areas but are almost completely lost in urban societies.
---
Comment to Religions in Uganda?
.