.
Shopping in Uganda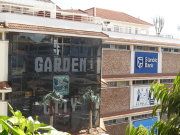 In the capital Kampala you actually can get everything what you are used to at home. There are a few western style shopping centres (e.g. Garden City Shopping Mall, Quality Hill Shopping Mall, Shoprite Checkers). There are big shopping malls in other cities as well. Partly you will encounter the same brands and products which you find in the shelves at home.
Recommended are the countles small local supermarkets, where you can purchase regional products at cheaper prices. You will find these shops in a lot of towns.
Tempting are also the numerous street stands of local people offering fruits, herbs, nuts and and and ....The huge choice and freshness especially of the tropical fruits beats every supermarket at home! Pineapples, bananas, mangos, papayas, oranges and a lot more you can get here in excellent quality for a few cents.
Be careful with meat and fish, because the hygienic standart often leaves a lot to be desired.
---
Comment to Shopping in Uganda?
.