Mihingo Lodge in Lake Mburo

Contact information
| | |
| --- | --- |
| Street/Plot: | |
| P.O. Box: | 28142, Kampala |
| Town: | Lake Mburo |
| Categoriy: | Lodge |
| Price: | >90$ (Double room p. night) |
| Phone: | +256 (0) 752410509 |
| Fax: | |
| Email: | reservations@mihingolodge.com |
| Internet: | http://www.mihingolodge.com |
Detailed information
The Mihingo Lodge
The Mihingo Lodge - a quiet and exclusive haven for relaxation directly at Lake Mburo National Park.
The tents at Mihingo Lodge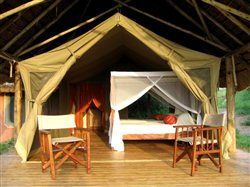 We have ten rooms at the lodge. Special feature: These are wooden platforms that stand on stilts and that are covered with a thatched roof.
At Mihingo-Lodge you live in a spacious and comfortable tent - including bathrooms with hot water, shower and breathtaking views over Lake-Mburo National Park!
Each of these luxury tents is situated on a small private ground within the Mihingo-Lodge, so you can enjoy the tranquil environment in complete seclusion. You can choose between different bundles: Some tents are situated in a wooded area, some with lake views, and some tents are located on ledges with magnificent views of the National Park.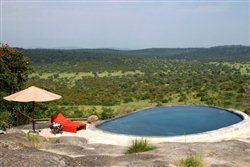 Dining and pool area at Mihingo Lodge
The scrumptious meals will be served at Mihingo-Lodge in our large thatched dining area. Situated on a rocky outcrop the building material comes exclusively from the environment: Weathered wood of dead olive trees and native grasses.
Below the dining area our swimming pool is located with magnificent views over the park. The Mihingo Lodge is well known not least because of the breathtaking sunsets that can be enjoyed at the dining and pool area.
The Lake-Mburo National Park
Mihingo-Lodge offers guests a fantastic opportunity to observe the wildlife at the waterhole below the swimming pool.
The Lake Mburo National Park is the home of many animal species, including zebras, impalas you will not find in most other national parks in Uganda. In addition, many waterbucks, buffalos, hippos, leopards, crocodiles and many other species in the National Park are home.
Recreation at Mihingo-Lodge
Besides lounging by the pool and listening to the sounds of nature the Mihingo-Lodge provides numerous other activities to explore the Lake Mburo National Park. Among these are boat trips on Lake Mburo, hikes in the savannah, game drives and - almost unique in Uganda - Horse Back safaris.
The Mihingo Lodge: Nature conservation always comes first
As the operator of the Mihingo-Lodge we are very conscious of the fragile environment, and environmental protection is very important for us. The buildings are designed that they blend inconspicuously with the rock- and savannah landscape. Electricity, hot water and water pumps are powered by solar energy, of course. We have also installed a system to use the natural rainwater for our purposes.
The Mihingo Lodge in social media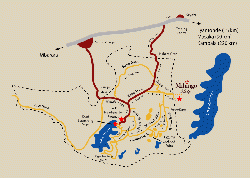 Up-to-date information, further details and more pictures from Mihingo Lodge and the Lake-Mburo National Park you will find in our social media channels. Feel free to visit us on Facebook, YouTube and Flickr.



Where to find the Mihingo Lodge
Lake Mburo National Park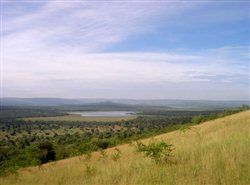 The Lake Mburo National Park is a very special place with a high diversity of species. It is well known for its numerous wetlands and that it is home to several species of mammals and birds which can be found nowhere else in Uganda.
Its unusual blend of rolling hills and idyllic lakeshores provide a diverse mosaic of habitats for the species-rich fauna: seasonal and permanent swamps, extensive acacia forests and green valleys.
"Rwonyo" headquarters is only 30 minutes away (15 km drive from the Mihingo Lodge) and from there you start your game walks or a boat trips on Lake Mburo.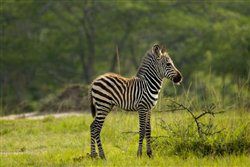 With a total area of 260 square miles Lake-Mburo National Park is in comparison to many other East African parks relatively small. But because of its diversity of habitats - dry slopes, rocky, bushy thickets, open and wooded savannas, forests, swamps and lakes - it provides home to a surprising variety of plants and animals.
The center of the park is Lake Mburo. Together with 14 other lakes it is part of a large wetland. These wetlands are connected by the Ruizi River on the west side of the park. Almost one fifth of the park consists of wetlands - either seasonally or permanently flooded. The swamps are home to many water birds that you can watch on a wonderful boat tour.
Ativities
Hardly any other lodge in Uganda offers so many possibilities for your leisure. From wildlife viewing to sporting and spa offers there is something for everyone.
Horse Back safaris at Mihingo-Lodge
Mihingo Lodge is well known for its Horse Back safaris in and around the Lake-Mburo National Park. Horse safaris are an exciting possibility to enjoy wildlife around the Mihingo-Lodge. Without noise and fumes you feel like a part of the nature and you have the chance to see even very shy animals. It is an exhilarating experience that you should not miss.
We always adjust the ride at the riding experience of our guests. For advanced users there are beautiful stretches of trot and canter. A total of 7 horses and 4 ponies are available for you.
One of the best tours in the park is a 4 to 5 hours ride on the 4 km long Warukiri Range. This path is in the middle of the park and offers a magnificent 360-degree view of the surrounding hills and valleys. At the end of the road there is a water hole, which is often the target of buffalo and other animals.
Our horses are suitable for persons up to 80-100 kg. Helmets are available in all sizes. For the ride we recommend long pants and sturdy shoes. Our riding safaris are made for groups up to 6 guests. All our rides are usually accompanied by one or two experienced guides.
All guests who have ever participated in a Horse BAck safari were absolutely thrilled!
More game activities
Game drives at Mihingo Lodge
We offer very nice jeep safaris at Lake Mburo National Park, with some spectacular views. One of the most beautiful places is Kazuma's viewpoint. At the top of the hill you have a view over eight of the twelve lakes. From Mihingo Lodge you can reach this place on the Ruroko track.
Wild walks at Mihingo Lodge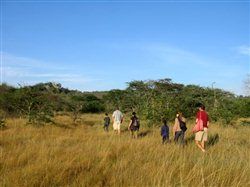 Starting from Mihingo Lodge we also offer trips to the park by foot, accompanied by experienced rangers of the Uganda Wildlife Authority. The tours start in the morning or afternoon when it is not too hot. The walk take two to three hours and should already be booked in advance. The fee is $ 10 per person plus transport, if the rangers must travel from headquarters to the lodge.
Wildlive observation at night
The Lake Mburo National Park is one of the few national parks in Africa where you can also make game drives during night. These trips offer the opportunity to see the nocturnal animals. It is the best chance to see the very elusive leopard.
After a delicious dinner you leave the Mihingo Lodge at 9.00pm for usually two to three hours. The fee is $ 15 per person and for the open jeep additional $ 50 including the driver. With another $ 5 per person you support our efforts in nature conservation.
Boot trips on Lake Mburo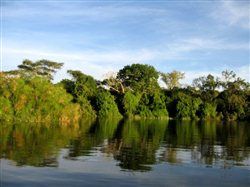 Boat rides on Lake Mburo are another attraction in the Lake Mburo National Park. The boats will be booked in advance and continue at 8am, 10am, 12pm, and 14pm, 16pm, and 5.30pm. The trips take about 2 hours, but can be extended flexibly with only one group on the boat.
Guaranteed you will see hippos and crocodiles on the tour as well as many bird species. With a little luck you may even observe leopards from the boat.
The park has two boats: One boat has a capacity for up to eight people, the other boat for 14 people. The fee per person is $ 10. Small groups of less than 4 people have to pay at least $ 40 for the boat.
Sports and recreation
Tennis
The Mihingo Lodge has a tennis court. Balls and rackets are provided by us. The site is about 10 minutes walk from the lodge. The $ 5 fee per person we use for the conservation of nature and the support of local communities.
Massage at Mihingo Lodge
A touch of spa-vacation we offer with our full body massages for $ 15 per hour. This fee we use for our leopard conservation project, so that you feel comfortable in every way!
Videos
A picture is worth than thousand words. The best impression of the beauty of the Mihingo Lodge and Lake Mburo National Park you get from our videos that we present on our YouTube channel, too.
Video 1
Video 2
Video 3
Online-Anfrage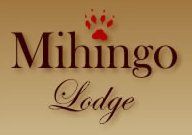 You are interested in a stay at Mihingo Lodge? Then just send an online request to the Mihingo Lodge:
.