.
Semliki national park Uganda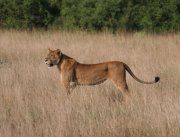 Regarding the landscape, this National Park is different compared to the others, because of its low altitude of about 700 m and the warm, moist climate with temperatures of around 30° C. The lowland rain forest in the 220 sq km large park deserve special protection, which ecologically belongs to the Ituri Forest of Kongo. 300 species of trees, of which one third only exist in Uganda, 65 species of mammals and about 400 different birds are worth a trip to the northeastern tip of Uganda. Since the park is located just above the continental rift, you can visit hot springs and geysers in Sempaya. Also tempting are the hiking tours with overnight stays in tents through the lower and remote parts of the park, which you can book there on site.
Its vicinity to Kongo had for a long time been a negative aspect, namely the activities of rebells beyond the border. Until 2001 the park had to be closed frequently for security reasons. But it has been quiet since then.
The status of the roads to the park is sufficient. Nevertheless, the last part of the main road up to Ntandi, the headquarter, has to be driven slowly.
Allthough you have to expect rain through out the year, the best times for travel are June/July and December to February. You can stay overnight - if you prefer comfort - in Fort Portal, or at the Semliki Safari Lodge. Also located in the south, in Bundybugyo, is the Hotel Vanilla (bot yet in our database).
---
Comment to Semliki national park Uganda?
.