.
Country & people: General information about Uganda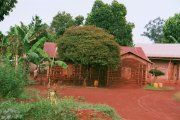 Uganda - the Pearl of Africa - is a country that still has it's original african traditions. One can experience that, just a few miles from most of the main towns. Agriculture forms the most important sector of the economy and almost 80% of the population still earn their living from it.
The tourism industry is not yet as well developed as in the neighbouring country Kenya. And because of this, one is able to enjoy the beauties and the wonders of this country without worring about crowded tourists.
In fact the government of Uganda has started to encourage the development of the tourism industry. For example the development of the infrastructure is already under way. For example there are already hundreds of lodges, apartments and hotels in Uganda.
Uganda: A safe destination for your safari in africa
Safari-in-Uganda.com would like to introduce to you the beauties of this country and it's wonderful people. You will also find amongst other things more information about the climate, landscape, politics, population and the history of the Uganda on this website.
Uganda ist a safe country for a safari in africa
Uganda offers hundreds of hotels from "nice priced" to "luxuray"
Uganda offers phantasmagoric landscapes from tropics to glaciers
Uganda offers a big variety on animals from mountain gorillas to butterflies
Uganda offers arts, culture and original african traditions
A summarized table showing some of the major contrasts between Uganda and Germany: Just click at facts about Uganda.
You will see: there is nearly no other country with such a variety of possibilities to experience the "black continent"!
---
.