.
Agriculture in Uganda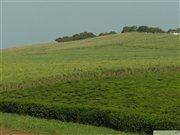 80% of the Ugandans are farmers. Their share of gross domestic product is around 40%. Fertile volcanic soils and sufficient rainfall guarantee good harvests. Nevertheless, most of the farmers grow food to feed their families (Subsistence agriculture).
The most popular foods grown include plantain (Matoke), rice, cassava and beans. The main export products are coffee, cotton, tobacco and tea, with coffee taking the majority share. You will commonly find the "Lake Victoria Perch" on the European fish counters as well as the Tilapia.
Related Links
---
Comment to Agriculture in Uganda?
.